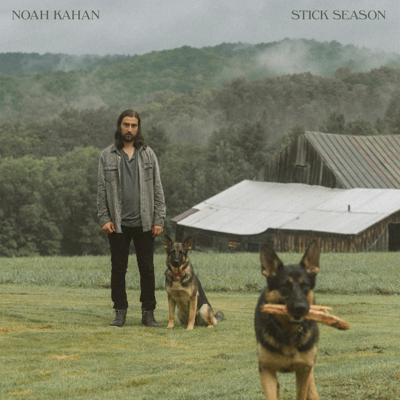 "Stick Season"
Noah Kahan
Released October 14, 2022
"Stick Season" is Noah Kahan's third studio album. Releasing only a year after his second album, "I Was / I Am," Kahan switches his usual pop style for a folk-inspired sound. Some may disagree, but a folk style fits Kahan's lyricism better than pop did. Even Kahan has stated that this album is the album that he has been trying to make since he started making music. 
This album truly has something for everyone. It is an album for the person who never left their hometown and for the person who left something in their hometown. From the discussion of mental health in "Growing Sideways," "Orange Juice," and "Northern Attitude," to reflecting on a hometown in "New Perspective," "Homesick," and "The View Between Villages," Kahan talks about experiences that most everyone has gone through in their lives. Kahan also sprinkles in a few love songs with "She Calls Me Back" and "Everywhere, Everything," as well as a few heartbreak anthems with "All My Love," "Strawberry Wine," "Halloween," and "Still." This album is definitely worth a listen and won't disappoint.
"Midnights"
Taylor Swift
Released October 21, 2022
"Midnights" is Taylor Swift's 10th official studio album (not counting the re-releases). The announcement of this album came as a surprise, as Swift is supposed to be working on rerecording her past albums. Not only was the initial album a surprise, Swift released seven more songs three hours after the main album was dropped at midnight. 
Lovers of Swift's past albums "Folklore" and "Evermore" will be disappointed by the sound of this album unfortunately, but those who enjoy all of Swift's discography will enjoy the mixture of sounds from previous albums. "Midnights" feels like the love child of "1989″ and "Reputation" with undertones of "Evermore" and "Lover." This is another album that has something for everyone on it.
This album is a whiplash-inducing joyride. Swift uses the pop-y, synth-y sound to hide some devastating lyrics. However, everyone will find a song to enjoy, as "Midnights" covers themes of love, heartbreak, self-doubt, mental health, betrayal, and revenge. Since these songs are a compilation of songs written throughout her career, you can pick out references to past eras. "Question…?" starts with a line sampled from her song "Out of the Woods" from the "1989″ album. Swifties have also gained more evidence to hate John Mayer, as the song "Would've, Could've, Should've" seems to have been written about their problematic relationship. However, even if you aren't a hardcore Taylor Swift fan, you will find something you enjoy on "Midnights."
Welcome to "Something Old, Something New," written by AJ Jerome, where an artist's new release is reviewed alongside one of their older pieces of work.